During the Japanese civilization, Toyo Glass Co., Ltd. and Sasaki Glass Co., Ltd. were established in Japan.
History of Toyo Glass Co., Ltd.:
In 1878, founder Sonichi Shimada joined the Shinagawa Crafts Branch established by the Meiji government. This branch is the foundation of the Japanese glass industry. Under the guidance of British engineer J. Speed, Sonichi Shimada not only worked hard to learn production skills, but also learned the latest European mixing and production technology.
In 1888 Shimada Glass was founded in the village of Kawasaki, Osaka. Using the latest European glassblowing techniques, the company produced excellent glass tableware and lamps and the business steadily.
In 1909, Shimada established a new factory in Osaka, using the latest glass manufacturing technology. Reputed to be as good as "the German one". And obtained a domestic patent.
In 1928, the company imported the latest fully automatic press from the United States for the production of glasses. Therefore, it successfully established itself as a high-end glassware manufacturer in Japan.
In 1931, the company produced lead crystal glassware. Thus leading the glass manufacturing industry in Japan
Started to supply glass food containers in 1938. Because Japan had very strict controls on metal products at that time, glass containers met a huge demand
Provided lighting glass for the U.S. Allied Forces in 1946
The H-28 automated production machine was introduced in 1962
In 1969, Toyo Glass introduced the MDP-24-30 double molding press machine. With this machine, two glasses can be formed at one time, so it has a great and high production efficiency.
In 1978, Toyo Glass Company introduced the TBM-18 machine to produce tumblers by blowing into the glass with minimal touching to the mold.
The history of Sasaki Glass Co., Ltd.:
In 1902, Sojiro Sasaki created his own glass shop in Kanda, Tokyo. He built his business around wholesaling oil lamps, a major product at the dawn of Japan's domestic glass industry. In the following year, Sasaki's glass shop began to export lamps to Hawaii, China, and Southeast Asia. The company also expanded its sales channels and creates a nationwide wholesale network in Japan.
In 1912, as the demand for oil lamps gradually disappeared, Sojiro Sasaki began to focus his business on household glassware products.
In 1917 Sasaki established his own factory and began to sell directly.
In 1929 Sasaki Glass developed special imprinting inks for glassware. The colors were applied to the glassware by hand.
In 1931, the company successfully produced colored glassware. The quality was similar to European ones, but the price was relatively low. Therefore, the company exports exquisite glassware with colors and prints to the United States.
In 1940 Sasaki Glass developed its own glass printing technology. The technology has basically obtained a patent. Sasaki Glass became the first company in Japan to print to glass by machine screen printing.
In 1957, Sasaki became the first Asian manufacturer to introduce the most advanced H-28 automated production machine.
In 1967 HS series made its debut as Japan's first commercialized glass-rim toughened glassware brand. The safety, quality, and value it provides have made HS the top brand in the hospitality and foodservice industries.
In 1982 Sasaki Glass opened a new facility in Sumida, Tokyo. The new plant inherited all the technologies and craftsmanship skills accumulated by Sasaki Glass. Equipped with the latest pollution-free technology, the new location also became the production center for Sasaki's premium crystal glass.
In 2002, the Houseware Division of Toyo Glass and Sasaki Glass merged and formed Toyo-Sasaki Glass. In Yachiyo City, Chiba Prefecture, the new factory "Sasaki Glass Chiba Glass Factory" was built, which has the latest automation equipment and manual department.

In 2005, TSG Chiba Plant became ISO 14001 certified.
In 2006,All machine-made soda-lime glassware products were shifted to "Fine Clear", an innovative soda-lime material exclusively developed by TSG. "Fine Clear" provides superior clarity and transparency while offering strength that is comparable to conventional soda-lime composition.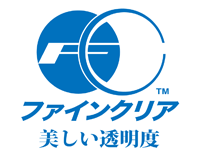 In 2007, TSG celebrated 40th anniversary of HS toughened glassware product series, Japan's first and most successful commercialized glass-edge toughened glassware brand. Debuting in 1967, TSG sold more than 700 million pieces of HS glassware in 40 years. HS has become the most popular glassware brand in Japan's hospitality and foodservice industry. TSG announced the debut of Fine Crystal®. The lead-free Fine Crystal® material is environmentally-safe and possesses various advantages over conventional crystal glass. Japan Patent No. 3961560. International Patent Application No. PCT/JP2006/317244.
In 2008, TSG made the debut of Ion Strong®, the world's first full-surface crystal glass ion toughening technology. Ion Strong® brings additional strength and elegance to Fine Crystal®. International Patent Application No. PCT/JP2007/058425.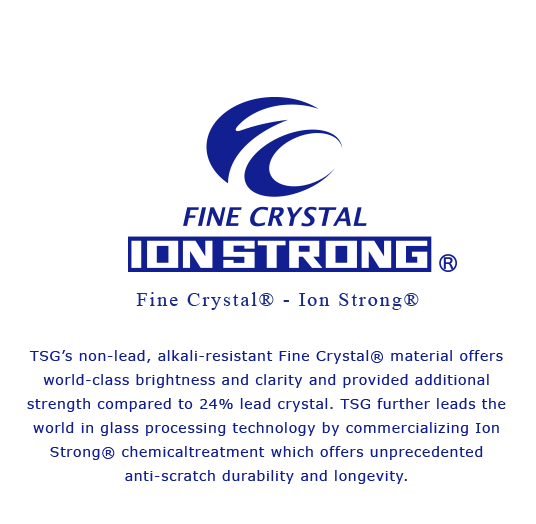 In 2009, Fine Crystal® - Ion Strong® acquired its patent in Japan. Japan Patent No. 4279349.
In 2014, "Edo Glass" was registered as Traditional Craft by Minister of Economy, Trade and Industry in Japan.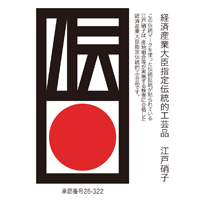 In 2017, TSG celebrated 50th anniversary of HS toughened glassware product series, Japan's first and most successful commercialized glass-edge toughened glassware brand from 1967. TSG has sold more than 800 million pieces of HS glassware for 50 years since 1967.
Feature
Fine Crystal®-Ion Strong®
Sturdy
Ion Strong® is an innovative chemical toughening technology exclusively developed by Toyo-Sasaki Glass which adds approximately 1.5 times strength to standard TSG Fine Crystal®. TSG's non-lead, alkali-resistant Fine Crystal® material offers world-class brightness and clarity and provided additional strength compared to 24% lead crystal. TSG further leads the world in glass processing technology by commercializing Ion Strong® chemical treatment which offers unprecedented anti-scratch durability. ION STRONG® chemical toughening is applied to the entire stemware which adds strength to all areas including the rim, bowl, stem, and foot portion. This means increased durability for glassware with fine rim and stem. FineCrystal® is the latest crystal glass material. Its lead-free composition is environmentally safe and has excellent alkali resistance and scratch resistance.
2.Superior resistance to residential and commercial dishwashers
TSG's Fine Crystal® is non-lead and offers superior resistance against alkaline cleaning agents. Our lab test result shows that Fine Crystal® glassware endures at least 4,500 cycles of commercial dishwashing without surface bleaching (clouding out).
3.Eco-friendliness
4.Compliance to GMAJ and EU definitions of crystal glass
TSG's Fine Crystal® meets Manufacturers' Association of Japan (GMAJ) and EU definitions of Crystal Glass - Crystalline. The acoustic and brightness properties are equivalent to conventional crystal and semi-crystal composition.
HS means safety
HS means durability and value
There are two types of HS toughening, one is physical toughening and the other is ion toughening. Both methods temper the glass by creating a compressive stress on the glass surface.
Type of Toughening

physical toughening

ion toughening

Method of Toughening
Exclusively developed by TSG, HS Ion Toughening creates a tempered layer.
The toughening is applied to the glass edge portion only and is done by heating and rapid cooling to the glass surface creating a compressive stress.
Durability

HS Ion Toughening is ideal for thin glass or for glassware with complex shapes.

Super durable and scratch-resistant glassware
1.6 times stronger than non-toughened glassware

The tempered layer is approx. 0.3mm thicker than that of conventional ion toughening, which protects the applied area from scratches for a prolonged period of time.
Safety
They will not be subjected to abrupt, violent shattering that might occur to full surface physical toughened glassware.
By limiting the toughening to the top portion only, the way of breaking will be more similar to that of a conventional glass.
Label
HS Platinum
HS Gold HS Blue
"Fine Clear" is the brand name of high-grade soda-lime glass material developed by Toyo-Sasaki Glass. In addition to its strength, Fine Clear achieves supreme clarity and brightness comparable to crystal glass which makes it an ideal material for glass tableware.

4.Dishwasher Safe for both commercial and household use
5.More than 50 years of excellence as Japan's first toughened glass drinkware brand
TSG won the good Design Award and Longevity Design Award
Toyo-Sasaki Glass won its first G-Mark in 1957, which was also the first year that the Good Design Award was organized. Since then, more than 300 excellent products of TSG have been awarded the prize.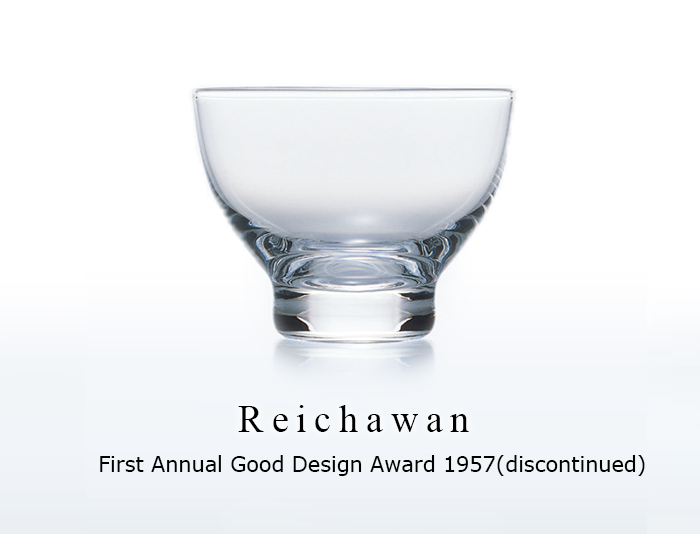 The Good Design Award is a comprehensive evaluation program organized by Japan Industrial Design Promotion Organization (JIDPO) to promote excellent design.
Products labeled with "G Mark" are readily recognized by Japanese as well as many Asian consumers as products with supreme quality, functionality and sophisticated design.
TSG'S LONG LIFE DESIGN AWARDS
To be nominated the Long Life Design Award, a product must currently be on the market and must meet one of the following nomination criteria.
A product which has been in production and distribution continuously for a minimum of ten years.
A product which was previously produced and distributed ten or more years ago,
and is currently being re-produced and re-introduced to the market.
A product which its design concept has a continuity for a minim um of ten years.
The Good Design - Long Life Design Award receives nominations from the general public annually.
All nominations are discreetly reviewed by the Good Design Award Judging Committee.
Eight of TSG's G-Mark products are awarded the Long Life Design Award as recognition of beingoutstanding long time bestsellers and are continuously supported and loved by our customers.
How to wash
Chipped and scratched glassware are prone to breakage by physical and thermal shock.
Do not wash these items with dishwashers.
Do not expose the glassware to thermal shock (i.e. extreme temperature change.)
After wash, wait until the glassware to return to room temperature before use.

For Commercial Dishwashers
Always choose the rack with the right size.
For Household Dishwashers
Do not wash or dry the glassware with high temperature course.
Load the glassware properly. Refer to the operation manual for correct settings.