EARTH Pet Cleaning And Grooming Wipes For Medium & Large Dog 25pcs
EARTH Pet Cleaning And Grooming Wipes For Medium & Large Dog 25pcs
Product introduction:
・ The moisturizing effect of collagen and hyaluronic acid moisturizes the skin and hair for a smooth finish.
・ Protect from house dust and pollen by wiping
・ Uses cleaning ingredients (food additives) that are safe to lick
・ Can be used every day and is clean
・ Gentle scent of baby powder
Raw materials / ingredients:
Rayon non-woven fabric

Features of Shampoo Towel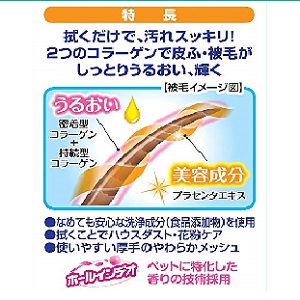 Just wipe it clean and clean. The 2 collagen shines with moisturizing and moisturizing skin.Uses a cleaning ingredient (food additives) that is safe even if it is tanned.● Fluffy soap scent.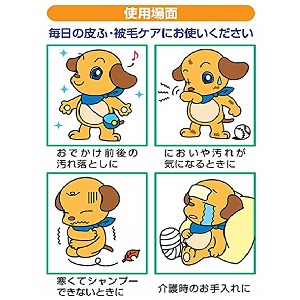 For removing dirt before and after a walk, when you are worried about smells, when your shampoo is hard to care for when nursing care.
Wipe clean for household dust and pollen care.● Easy to use thick soft mesh.