KAO Bubble Carbonated Bath Bomb Milky Aroma 4 Scent 40g*12 Pieces
KAO Bubble Carbonated Bath Bomb Milky Aroma 4 Scent 40g*12 Pieces
At the end of the day, enjoy a luxurious bath time surrounded by high-quality fragrance and milky hot water. Four scents that make you feel enchanted and elegant.
Contains chlorine remover (amino acid). The same weakly acidic
hot water as bare skin.
"Carbonated power" enhances the warm bath effect and
warms and loosens to the core! Also for short baths. For fatigue, stiff
shoulders, back pain, and poor circulation.
● Can also be used when taking a bath with a baby
● All are turbid type (see the table below for fragrance and hot water color)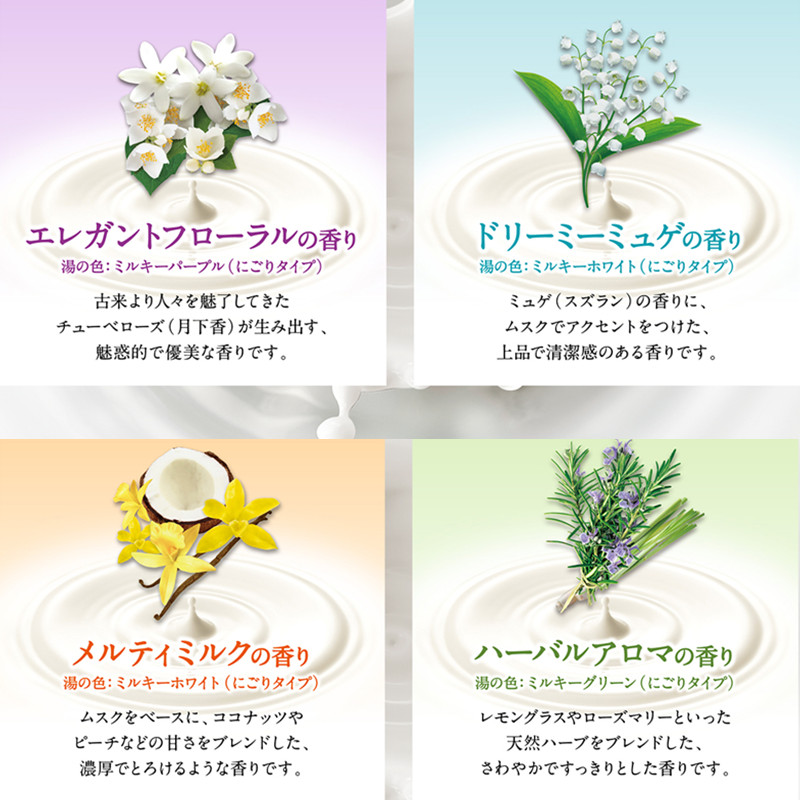 Scent / color of hot water
Elegant floral scent :Hot water color: Milky purple (dirty type)
Dreamy Muguet scent :Hot water color: Milky white (dirty type)
Melty milk scent :Hot water color: Milky white (dirty type)
Herbal aroma scent: Hot water color: Milky green (dirty type)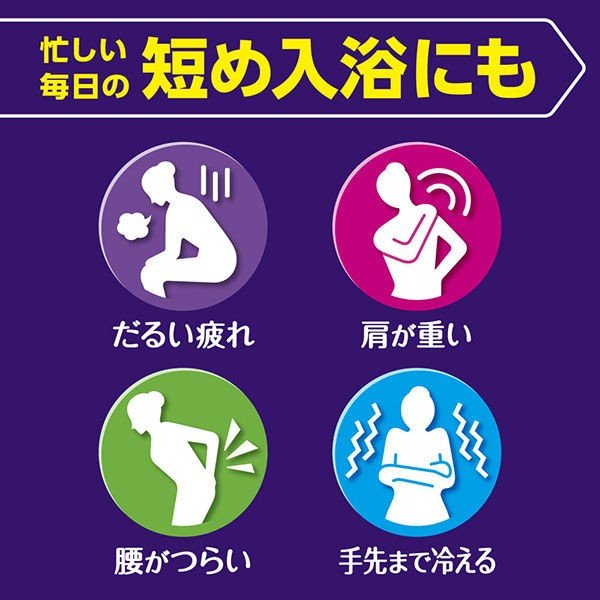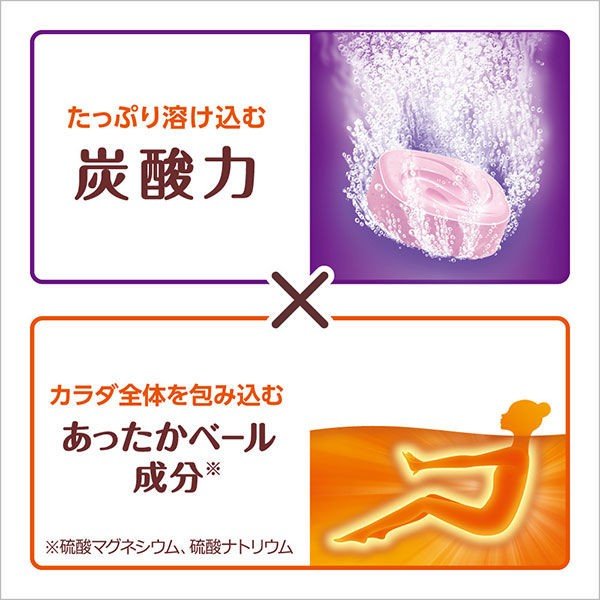 Efficacy
Fatigue recovery, stiff shoulders, low back pain, poor
circulation, neuralgia, rheumatism, hemorrhoids, rash, chilblains, roughness,
cracks, rashes, acne, bruises, wrinkles, poor circulation before and after
childbirth
Ingredients Sodium hydrogen carbonate *, sodium carbonate *,
magnesium sulfate *, sodium sulfate (anhydrous) *, fumaric acid, PEG6000, Ti
oxide, glycine, magnesium oxide, glucose, sucrose fatty acid ester, sodium
polyacrylate, polyacrylic acid, Bentnite, highly polymerized PEG, PVP,
isopropyl myristate, fragrance, (+/-) blue 1, yellow 4, red 102, red 106, red
227
How to use
Dissolve 1 tablet in hot water (150-200L) in the bathtub, stir
well before bathing.
In rare cases, effervescent tablets may cough when brought close
to the face.
Even after the bubbles disappear, the carbon dioxide gas is
still dissolved in the hot water, so the effect lasts for a long time. It is
effective to take a bath within 2 hours after melting.
● Please use immediately after opening the bag.
● Can also be used when taking a bath with a baby.
Precautions ● Do not use this product with other bath salts.
● Do not use for purposes other than bathing.
● Keep out of reach of children.
● Be careful where you put it to prevent accidental ingestion by
people with dementia.
● Do not place in high temperature.
● If you have an abnormality on your skin or constitution,
consult a doctor before use.
● Should you observe any abnormalities such as rash, redness,
itchiness and irritation on your skin during or after use, discontinue use and
consult a doctor.
● If swallowed, take measures such as drinking water.
> First Aid SOS
● Check the instruction manual of the water heater as some
models cannot be used depending on the water heater.
● Sulfur that damages bathtubs and bath kettles is not included.
● Do not use for natural marble / wooden bathtubs.
● The stains on the bathtub may be colored by the pigment of the
bath salt, so remove the stains with a bathroom cleaner as soon as possible.
● Dirt on the bath pot and piping may have a cloudy component
that may come out when you drive it out. After use, wash away any cloudy
components remaining in the circulation port filter or bathtub. Follow the
instructions for the water heater for cleaning.
[Caution for washing]
● Can be used for washing, but use fresh water (tap water) for
rinsing and soft finishing. Do not use when washing clothes that have been left
on and grated, or when washing with fashionable detergent.
● Do not use the bath water supply pump of the washing machine
because the filter may become clogged with cloudy components.
[Caution for watering]
● Do not use for watering plants as it contains a lot of
inorganic salts.
Be careful of slipping in the bathtub
This product is not food
Made in Japan