KOBAYASHI Pharmaceutical Stainless Bottle Cleaning Tablets (8 Tablets)
KOBAYASHI Pharmaceutical Stainless Bottle Cleaning Tablets (8 Tablets)
Made in Japan
Product features:
The cleaning ingredients spread inside the bottle, and even the dirt on the bottom that cannot be reached is thoroughly cleaned.
Decomposes polyphenols that cause colored stains.
Just say Pon! Easy and convenient.

Use:
Inside a water bottle (stainless steel, plastic, pottery) or mug
Component:
Potassium monosulfate, sodium perborate, foaming agent (carbonate, organic acid), excipients, chelating agents, binders, surfactants (sodium alphaolefin sulfonate), oxidation activators
Liquid property:
Weakly alkaline to neutral
Net amount:
20.4g (2.55g x 8 tablets)
The estimated amount of use:
1 tablet for 350 mL of water
How to use: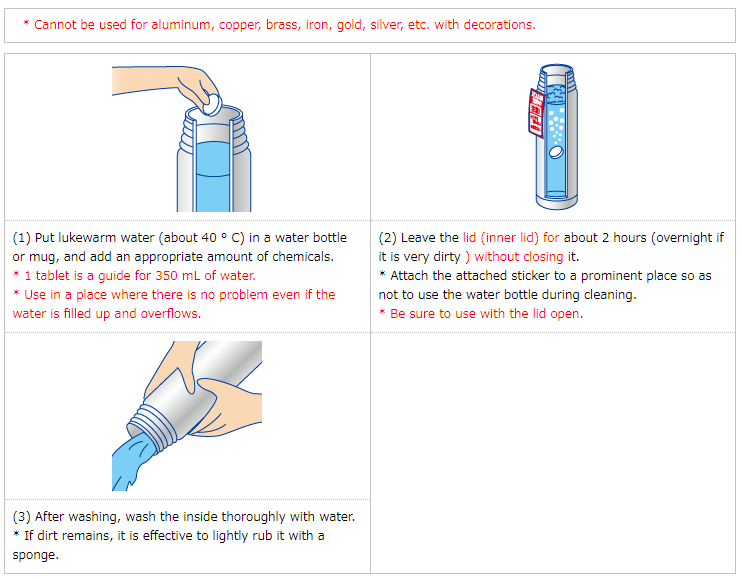 Precautions for use:
Be careful of accidental ingestion by children and people with dementia.
Keep out of the reach of children and people with dementia.
Do not use it for anything other than its intended purpose.
Do not use in boiling water (60 ° C or higher).
It is not possible to remove the material itself that has been discolored due to heat or the like.
If there is any undissolved residue, lightly rub it off.
If you have rough hands, use rubber gloves.
Use immediately after opening the inner bag.
Do not leave in direct sunlight, high temperature, and high humidity.
First aid:
If it gets in your eyes, it may hurt your eyes if left untreated. Immediately rinse with running water for at least 15 minutes without rubbing, and then consult an ophthalmologist.
If accidentally put in the mouth, rinse the mouth thoroughly and give 1-2 glasses of milk or water or egg whites.
If it gets on your skin, wash it off thoroughly with water.
If you find any abnormalities, in either case, bring the product packaging and consult your doctor.